I recently went to a DJ show at Good Life, and since these shows usually last longer than the T runs and I also hate cabs, I decided to bike both ways (about 5.5 miles each way). It had been flurrying all day, but there wasn't enough snow or ice on the roads to make me worried about wiping out.
One factor I hadn't considered, however, was road salt: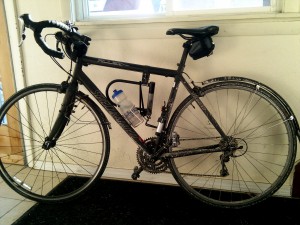 I've wiped as much of it off as I can, but it's too cold to wash the bike (it would probably just freeze). My hope is that the chain isn't ruined and my components aren't all going to rust. Ah well, the show was fun.