This is my second post about my plans to construct an online editing and color correction suite for my own work.
As I suspected, this designed changed and the quote below is inaccurate. So, please disregard the plans contained within. Instead, check out the final desk I decided to purchase
Last time I talked about what computer equipment I would probably need in my edit suite. Now that I've got all this great (hypothetical) hardware, where do I put everything? I could just get a cheap desk and a folding chair, but that's the wrong way to go. I need to work efficiently, and a plain rectangular desk is not the right shape for working with three monitors, a keyboard, and a tablet. I also can't cheap out on the chair unless I want to get carpal tunnel syndrome.
I also have other reasons for not skimping on furniture. For a production, online editing and color correction are some of the highest dollar-per-hour expenses. The equipment is expensive, the labor is highly-skilled (IMHO), and the time-frame per job is short. Clients rightly want to feel like they're getting their money's worth. It's hard to see where that money is going if the equipment is in another room, and watching someone use a computer is notoriously boring.
This expense is why million-dollar online rooms have track lighting, espresso machines, and leather couches. It's similar to the broken-windows theory1. If I have a cheap desk and a broken couch, that implies I take the same attitude toward my hardware purchases — it's probably a bunch of half-working cobbled-together junk. Sure, I could charge the client less if I didn't spend so much on the decor, but the percentage of the budget spent on furniture is small compared to the hardware and software. Physical goods are more cost-effective than electronic, so a smaller amount of money goes a longer way.
The Desk
The most expensive piece of furniture is The Desk. Entire companies exist just for making media desks and furniture. These desks are very nice. They curve around, so the operator can look directly at all the monitors. They have risers, which provides more space for mixers, consoles, and other gadgets. They are also really, really expensive, like $3000+.
I want to hit a sweet spot — not a regular rectangular craigslist desk, but not a crazy-expensive professional media desk. My best option is to build it myself. I don't have a CAD program, but I do have a vector-graphics program called Inkscape that is similar to Illustrator. I set my units to inches, and simply drew the room with a desk in it: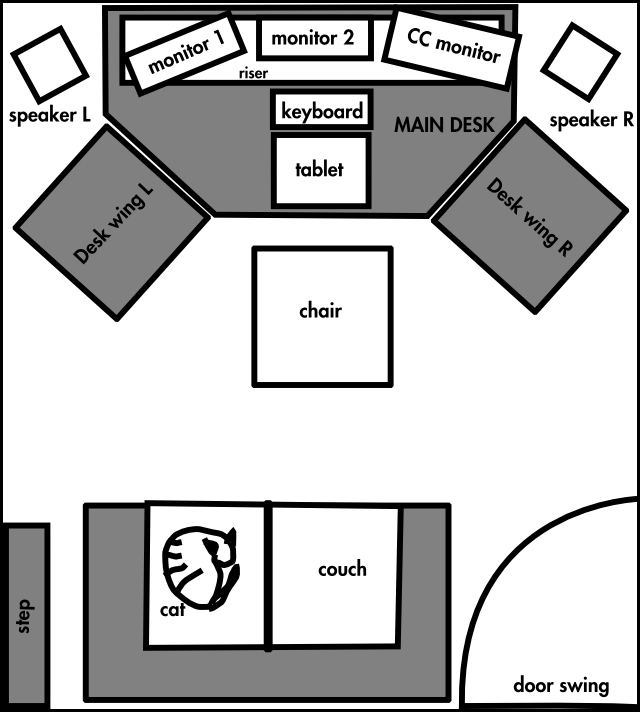 For the monitors, tablet, keyboard, and chair, I drew rectangles the same size as the items themselves. I let these objects determine the size of the desk. Right now the space between the chair and the couch looks a little tight, but the couch and door are estimations2. The speakers are shown free-standing, but I may end up just putting them on the desk.
I wanted to get the wrap-around effect using simple shapes, so I started with a rectangular top and chopped the corners off. Then I can make two smaller wings that fit flush onto the diagonal sides. The wings may have four legs (so they can move), or I might give them only two legs and have them attach to the main desk. The riser consists of a simple bookshelf with some more board screwed and glued to elevate it.
I went to Home Depot3, and found they can make a custom countertop with a simple flat black finish for 14$ a square foot. I can get them to make the tops and then attach adjustable-height legs from Ikea to complete the desk. Adding everything up, this is what I get:
Note: I haven't built this desk, so I may discover that the legs are no good or the particleboard counter needs reinforcement. This post is not sound construction advice.
| Desk Tops: | | per sqft | w | h |
| --- | --- | --- | --- | --- |
| Main Desk | $248.76 | $13.82 | 72 | 36 |
| Desk Wing L | $55.28 | $13.82 | 24 | 24 |
| Desk Wing R | $55.28 | $13.82 | 24 | 24 |
| Legs: | | per leg | # of legs | |
| Main Desk | $90.00 | $15.00 | 6 | |
| Desk Wing L | $30.00 | $15.00 | 2 | |
| Desk Wing R | $30.00 | $15.00 | 2 | |
| Main Desk Riser: | | | | |
| Regular shelf | $14.00 | | | |
| wood to rise | $10.00 | | | |
| | | | | |
| Main Desk Total | $362.76 | | | |
| Single Desk Wing Total | $85.28 | | | |
| | | | | |
| Subtotal | $533.32 | | | |
| Tax | $26.67 | | | |
| Total: | $559.99 | | | |
Is 560$ too much to pay for a good desk? It's half the lowest price I've been quoted for either professional edit furniture ($3000) or a custom-made birch desk ($1000). It's only 5% of the cost of the rest of the editing suite.
Other than the desk, there are a few other basic things I will need, all of which I can get for free or are inexpensive:
Couch: I may have access to a free loveseat, and if it's presentable and comfortable I'll use that. Otherwise, Ikea to the rescue again!
Main lighting: I will probably bring my nice floor lamp from home, where I'm not really using it
Back lighting: I just need a small fixture to aim at the wall. This can be inexpensive because it's hidden
The nice thing about this room is that the server room is on the other side of the wall. This means I can run the cables through the wall and put all of the computers with their loud, whiny fans in there, keeping the online room quiet.
see also this dutch study. [↩]
Char insisted I include the cat for scale [↩]
I'm not even going to link to their web site, it's worthless [↩]