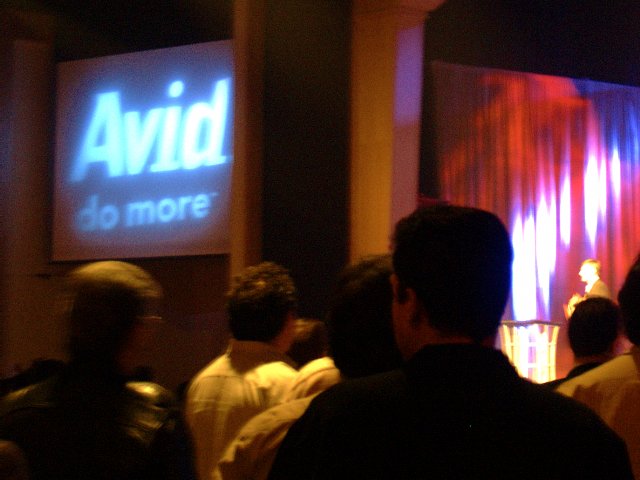 From the User Event:
Media Composer:
Mac and PC are on the same roadmap now — simultaneous releases. No mention of intel-specific
Composer Software-only version, 5K$
Mojo SDI, 7500$
Adrenaline price drop
Feature improvements to composer:
Uncompressed HD playback
tracking / stabilizing
more protools compatible
AVX2 / 16bit plugin compatible
Avid Interplay:
"nonlinear workflow engine" — or, integrated asset management. Designed so that everyone will need a copy, even the finance people! Hurray stock price!
Also tracks resolutions.
Seems unity-specific, but I couldn't tell. Very vague on the details.
Integrated with Composer, but there's also a couple standalone versions for other people — even interns doing logging ("Interplay Assist").
100 media types, including avid (obviously), photoshop, excel, etc. Wide-ranging.
Can auto-archive
Auto multirez based on rules (audio doesn't need HD, etc)
Security for houses that have people renting rooms. (one client can't see another's media at all)
"Health monitoring"
Storage:
Unity ISIS scales to 192TB, 150 simultaneous clients
Unity and LANshare, 2x capacity
Avid VideoRAID (please buy disks from us!)
"Open Storage Initiative" — can use final cut / premiere with unity — probably just making them generic disks if you want.
DS Nitris 8:
4:4:4 support
Symphony Dual Boot
DS Assist station — ie DS without the Nitris hardware
64bit
XpressPro HD
Mac version out. No mention of intel
Other:
Liquid 7.1
Studio Toolkit works with bluray, whoop-de-doo