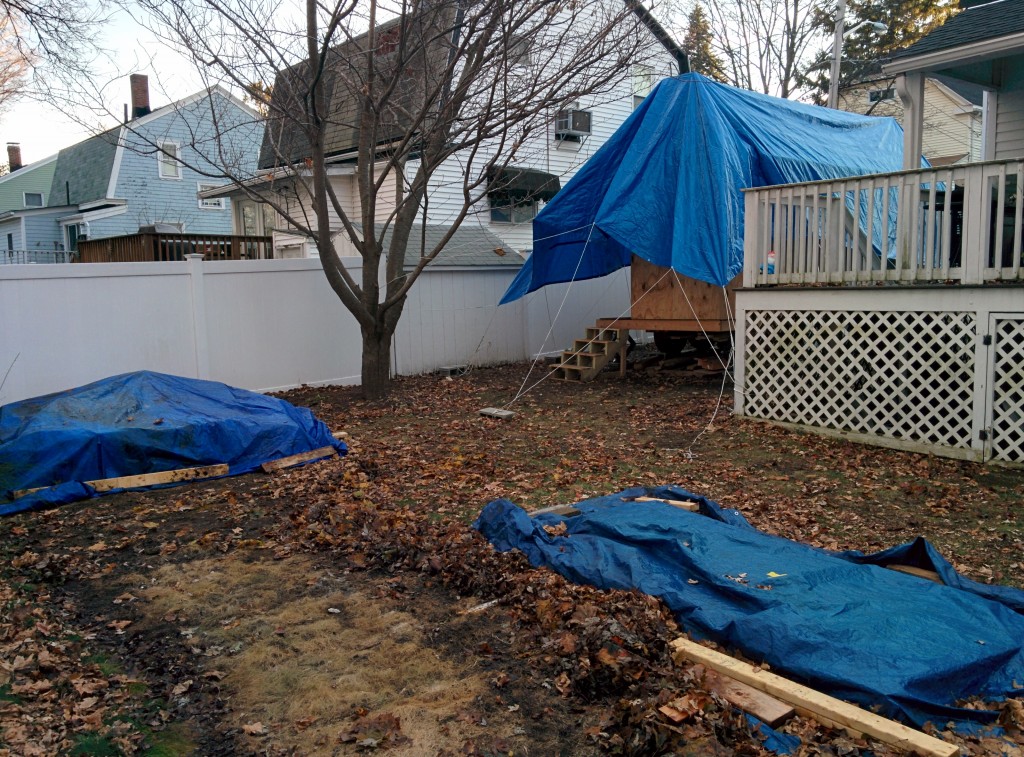 Things are quieting down on the work site now that the sun sets at 4:30 and the temperature is regularly near freezing.  But that doesn't mean we're not still working on the tiny house!
The most important thing I've been doing is checking and rechecking the tarps and weatherproofing.  I have the tarp hanging pretty much down to a science now, so I no longer have problems with holes in the tarp or water collecting anywhere.  It has even snowed once, so I could see that the tarp shouldn't have any major problems with snow cover either.  Most of the wood still in the yard is scrap.  Anything that I will need has been moved into the house itself or underneath it.  I bought a Junkster, which I will fill with scrap to clear out some of the mess.
Char and I have been pushing forward on planning some of the eventual finishing details.  We've been working on a design for the vertical post that will go on our front porch, and we're also moving ahead on having a master carpenter build our front door.  Some time in January we'll go to Ikea to look at counters for the kitchen.  I'll also start getting serious about ordering appliances and the windows, too.
I also plan to do small pieces of work on the house itself — there's still one more window to frame, for instance.  Also I could cut out holes for the windows and affix the house wrap to help protect the structure from weather.  And I don't just want to leave it out there for 4 months without checking on it once in a while!
It's obvious why most people try to build their tiny houses in one summer, but that was never a realistic possibility for us given our full-time jobs.  I look forward to spring when we can finish the exterior and get rid of the tarp for good!