February 12: uh oh
Well I finally got my JET results today. It was the thin envelope. This is depressing, because I had sort of put a lot of eggs in the "not in boston too long" basket. I'll apply again next year, or perhaps look around for alternative programs. For now I'll be doing my palm pilot kanji flashcards on the train every morning :)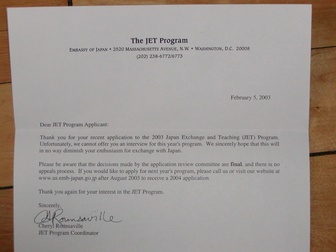 no, thank _you_
btw, if anyone knows an easy way to add feedback/comment support, please let me know. I tried installing moveabletype, but the format wouldn't adapt to my current xml system very well.
February 9: Aquarium
In the name of taking Char around to see the sights of Boston, we went to the New England Aquarium. As with most childhood things, it was mostly the same, and slightly different. The individual differences (no more fountain, new Imax, no shark outlines) are fairly insignificant. The important things (penguins, large tank, favorite exhibits) remain the same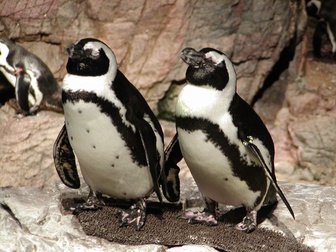 penguins!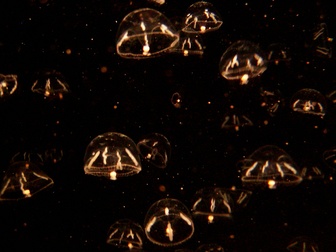 Jellyfish. These are about a half inch across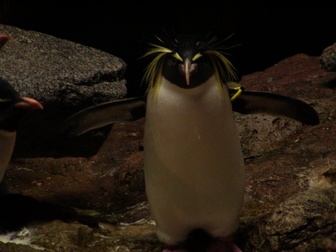 yo yo yo!
February 7, part two: snow!
It snowed about a foot the day after my birthday, thus causing me to take the lead in the annual snow bet. yes!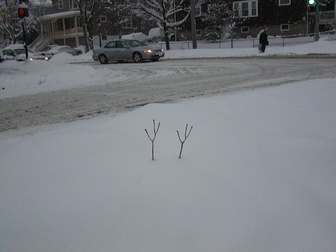 twigs, or a frostbitten fowl?
My birthday party at home. Dinner was beef stew. mmmm.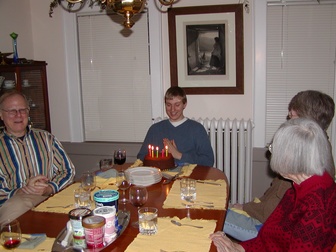 dad, me, grandma, peter in the back
February 7th: Snow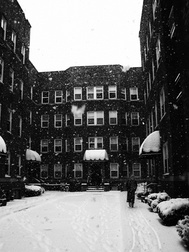 I'm having fun with curves and shit. This is still pretty amateurish, but not too bad
Feb 6: My birthday!
Yay, my birthday! Char and I went walking down Newbury street, looking at expensive things we couldn't buy. I decided for dinner I wanted sushi. Lots and lots of sushi.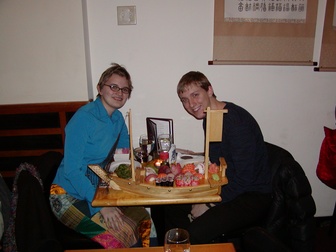 Lots of sushi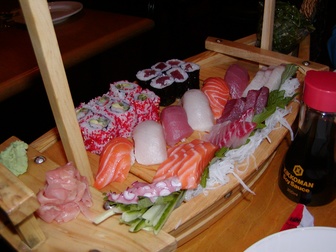 Closeup of dinner.
We both agreed that the sushi was very good, and that while it was fun to eat sushi as an entire meal once, we probably wouldn't do it again. Afterwards, your mouth gets a funny tuna feeling to it. That's not to say "fishy smelling," since it's very fresh, but there's a lingering taste of tuna.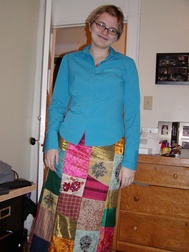 Char's outfit